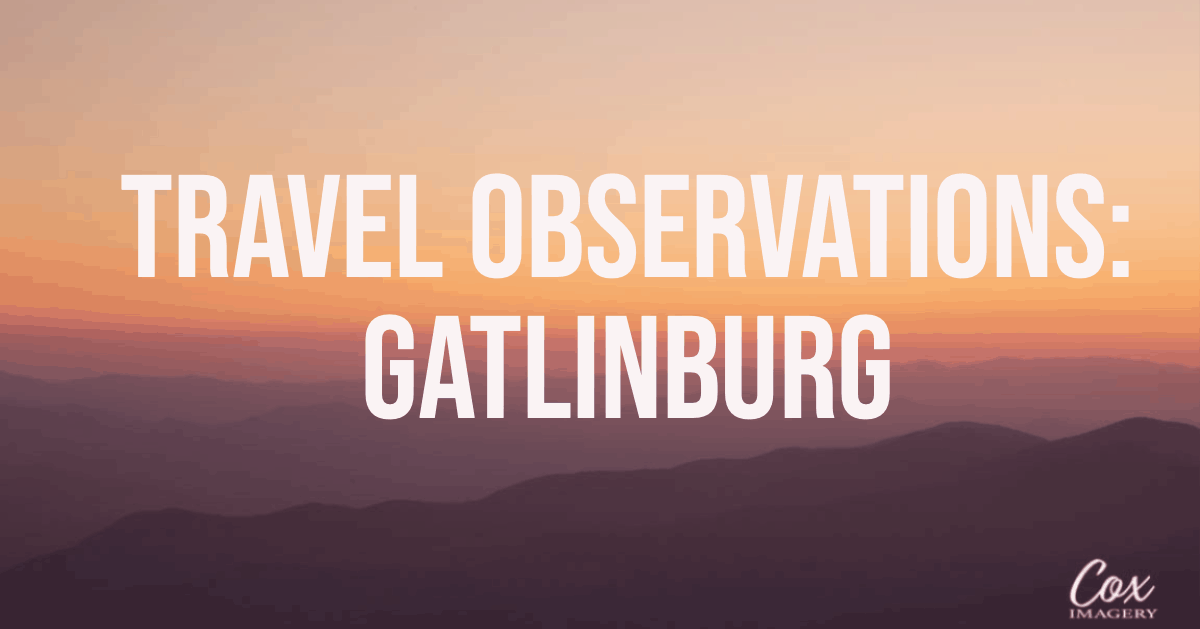 Gatlinburg Tennessee: Travel Observations
David E. Cox, 4 years ago
0
2 min

read
382
I recently visited Gatlinburg Tennessee with some friends. Our plan was to go to Great Smoky Mountains National Park, and hopefully shoot some bears (with our cameras). Unfortunately, we didn't see a single bear. Although It was my second time visiting the state, it was my first time in Gatlinburg.
Skybridge
In addition to visiting the Smoky Mountains, we walked across the newly constructed suspension bridge. That was a "fun" experience. The bridge is 680 feet long, the longest in North America. In the center the floor is glass – so you can see the gorge below. The gorge was not the only thing I observed during my visit. Here are some other observations I made:
1. Not sure what I expected, but Gatlinburg was more 'touristy' than I imagined – not in a bad way…
2. I have reached my lifetime quota on walking across 600+ foot suspension bridges with partial glass floors.
3. My friends Abu and Roger are more uncomfortable with heights than I thought. BTW: I'm not completely comfortable, either.
4. I don't like ski lifts. Enclosed gondolas are less frightening.
5. Trying to calculate the chance of survival from a ski lift fall, while riding a ski lift is not an enjoyable exercise.
6. Gatlinburg Tennessee is the #2 wedding destination in the US. I would never have guessed that.
7. Southern hospitality is real. Thanks Jamie and "Miss Bri"
8. When you meet someone on a trail – they either JUST saw a bear or they tell you about another time when they did.
9. Bear sighting stories can go "viral" on a trail. We met a couple that said they had just saw some bears, then we met a family that met that couple. Then we met a small group that heard the story from the family.
10. My bear disappointment made me overlook the fact that I saw a wild coyote for the first time.
Related posts