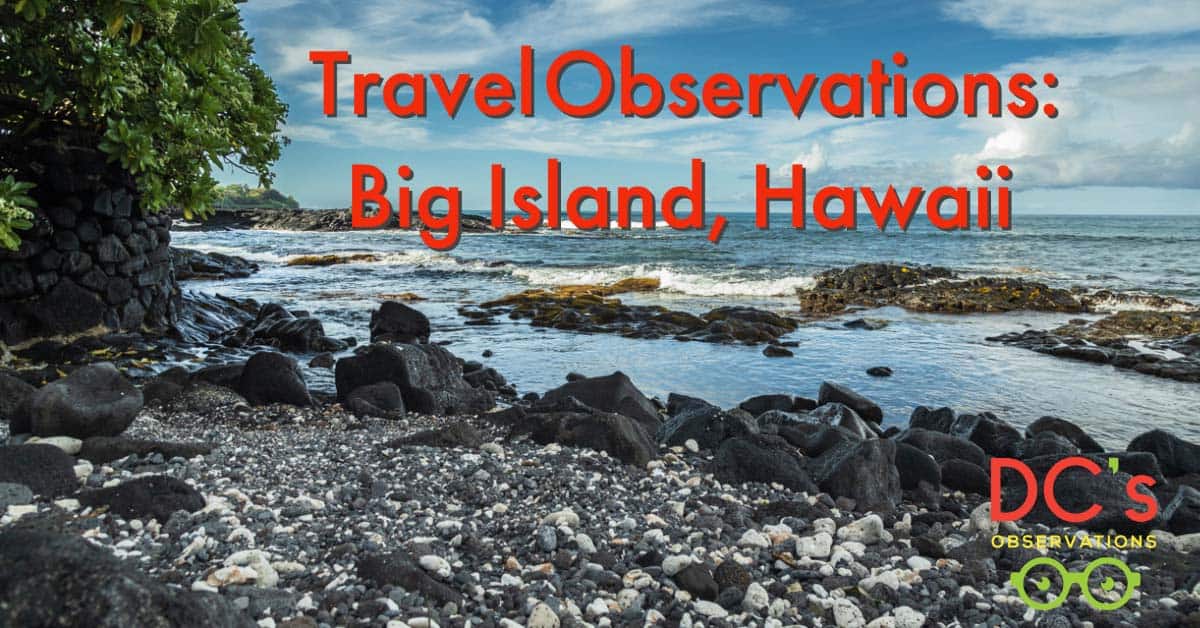 Big Island Hawaii Observations
David E. Cox, 2 years ago
0
2 min

read
356
My family did a Hawaiian island hopping vacation in 2016, which we visited Maui, The Big Island Hawaii, and Oahu. We spent about a day and a half at each – kind of a "sampler vacay". In 2019, we returned to Maui for 9 days – and in 2021 we returned to the Big Island Hawaii for 8 days. It's a nice island, and I plan to visit again when there is lava present at Hawaii Volcanoes National Park.
Going anywhere on the island is like a mini road trip. Getting to the 'must see' spots will take at least 1-2hrs (one way) Alternatively, you can go to Oahu and sit in traffic.
2. The cockroaches are as big as the island!
3. Too often – Touristy attractions are underwhelming
4. One man's "most beautiful beach in the world" is my: "I walked a mile for this?"
5. Most of the Big Island (restaurants, etc.,,) is shutdown by 8pm.
6. The radio station(s) have a solid rotation of about 15 songs.
7. A can of spider/scorpion spray where you're staying should be reason for concern.
8. I love coffee, tacos and Reggae – all are easy to find.
9. Still one of my favorite things about the Hawaiian islands – no snakes!
10. It can literally be raining, snowing, and perfectly sunny on different parts of the island – at the same time.
11. Jack in the Box should not be selling tacos! But, I did say tacos are easy to find…
12. I walked down a 1/2 mile road, then back all uphill. People in 4×4's drove by and waved… I wanted a ride, not a wave.
13. Seeing an outdoor hockey rink was an odd sight, obviously it wasn't an ice rink.
14. Of course Diners, Drive-Ins and Dives has been to the Big Island, too.
15. Contrary to some barbershop gossip, there is no zombie apocalypse in Hawaii.
Photo Credit: @cox.imagery
Related posts